Maisie Café
Usual price
Sale price
€55.00
Unit price
by
Sale
Exhausted
5 x 500ml bottles, & one 250ml shot
The Benefits:
Rich in vitamin C

Glow your skin a glow

Gain energy and feel fit

Going back to a healthy, plant-based diet
What to find in this cure?
Go juice: beetroot, green apple, ginger, lemon, coconut water (2x500ml)

Banana shake:

banana, rice milk, date, vanilla, maca (500 ml)

Clear juice: cucumber, ginger, fennel, lemon, coconut water

(500 ml)

Cucumber detox: cucumber, lemon, mint, chia seeds, filtered water (500ml)

Gnger fire: filtered water, fresh ginger rhizomes, lemon, fresh mint, natural pineapple extract (250ml)
View full details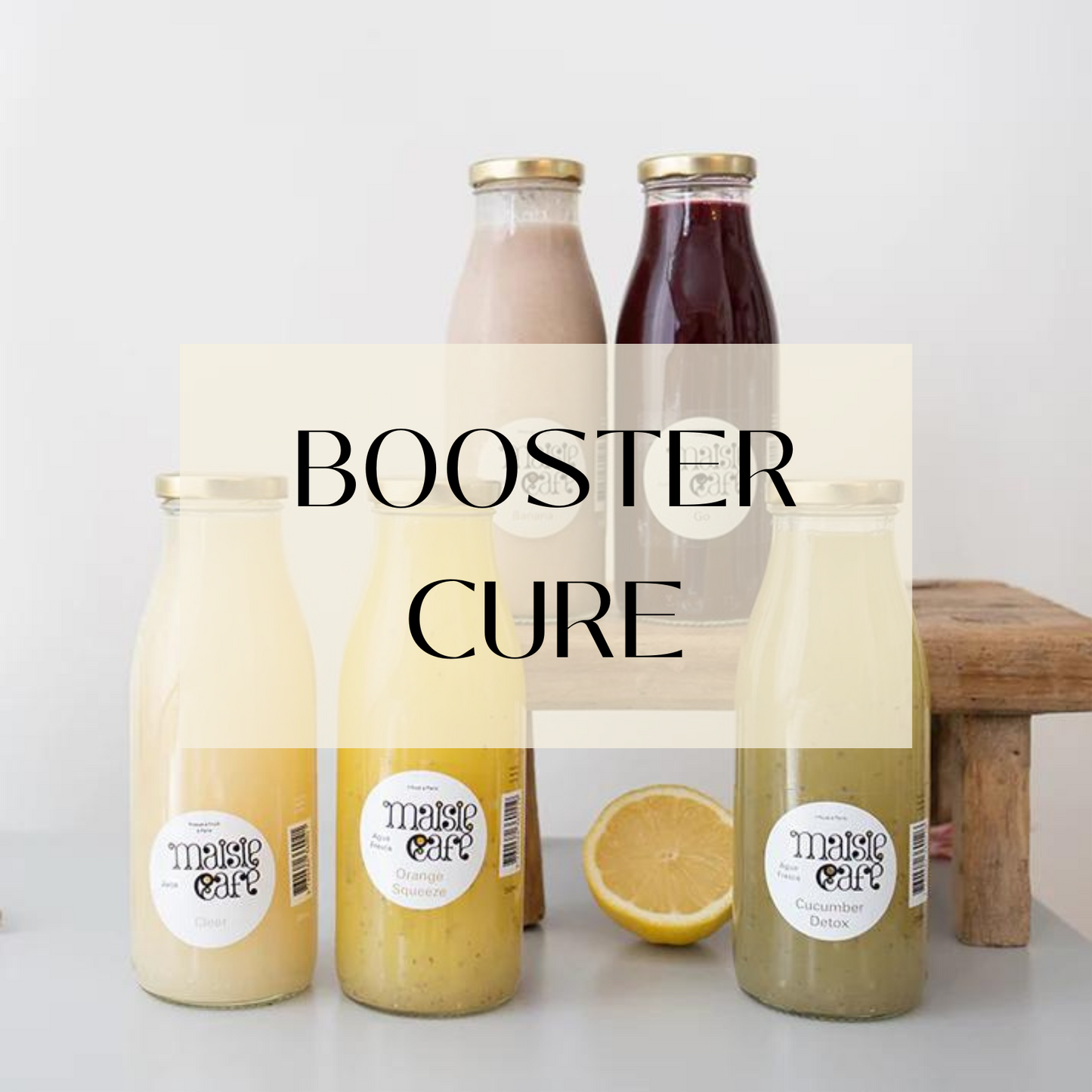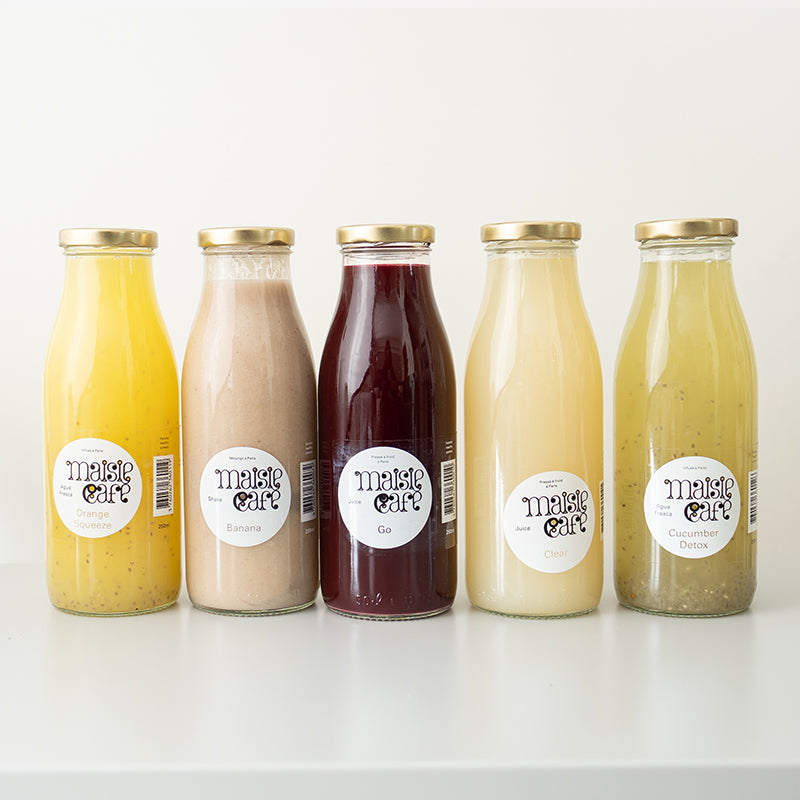 Additional information
- Cold pressed, homemade
- Organic farming, vegan
- Product to order (ultra fresh )
- Enriched with superfoods and benefits
Our body is programmed to naturally eliminate toxins… But our daily lives can slow down this natural process.
With the Maisie cures, you offer your body, especially your liver and your kidneys, a break to help it regain strength and detoxify.
We offer you formats of cures comprising 5 bottles of 500 ml and 1 shot of 250 ml.
Get rid of the toxins that slow down your body, rehydrate it and regain its tone, as well as all its vitality. You boost your energy level and your immune system. Your skin is more beautiful, clearer and your sleep improves.
Maisie juices are homemade juices, made from raw, organic vegetables, which are cold pressed using a juice extractor. juice, thus allowing an exceptional intake of antioxidant vitamins and minerals.
A Maisie cure is carried out over 1, 2 or 3 days. It provides about 1000 calories per day. In addition to the famous Maisie juices, the cures are composed of Maisie nut shakes, homemade vegetarian milks rich in protein, and revitalizing Agua Fresa, to gently rehydrate your body and purify your liver, morning and evening! Our cures complete your balanced diet, all without added sugars or preservatives, 100% natural, in eco-responsible packaging.
We prepare our agua fresca, refreshing flavored waters, from fresh juice, filtered and alkaline water that eliminates the main pollutants and deals with the excess acidity created on a daily basis. The chia seeds that we add are a superfood that comes from Mexico, rich in protein, Omega 3 and essential fatty acids. Chia seeds swell on contact with water in food and promote satiety.
After a cure, be sure to gradually resume a healthy and balanced diet and continue to stay well hydrated!
Preservation:
3 days between 0 and 4° C (before opening)
Product to order and delivered in transport in 24/48H after command.